Last year I posted at HowDoesShe about the Pumpkin Roll recipe that I use that seems to be a hit everywhere I've taken it.

Since then I've had several people say that even with all of the photos in the tutorial, they're hesitant to try it. A friend of mine mentioned that a video tutorial might be helpful, so last time I made the pumpkin roll I had Ken video tape the process for me and I squished it into a 5 minute video.


I'll add in the photo tutorial as well, as it has all of the instructions whereas the video mostly shows you how to do it.






Pumpkin Roll Recipe



Roll

1 cup sugar
1 tsp. soda
3/4 cup flour
2/3 cup pumpkin (canned- not pie filling, pure pumpkin)
3 eggs
1/2 tsp. cinnamon
1/2 cup walnuts (optional- I exclude them cuz I'm not a fan of walnuts)

Mix everything except nuts.
Grease & wax cookie sheet.
Pour into pan & sprinkle nuts.
Bake 15 min. at 375 degrees.
Roll into T-towel for about 10 minutes.
Unroll & spread in filling.

Filling

8 oz. cream cheese (250g)
1 tsp. vanilla
1 cup powdered sugar
2 tbsp. soft butter

Mix well.

Here are the photos & description:




Above is a photo of the grease & wax part (wax paper first, then grease).
I crease the wax paper around the edges so that it stays in place better, like this:
(which helps the shape of the cake-ish part of the roll)... also, grease it really really well (it's not cool when the cake won't come off of the wax paper).
...and you're ready for baking. Keep an eye on it near the end of the baking time- you want it a bit brown- if it turns black... you've gone too far!
Once you've got it out of the oven, you're at the flip stage. I usually put the pan down first, then a tea towel, then an upside down pan. (I was using my other pan this time, so I used a lunch tray- but you get the idea). Grab hold of the whole thing (with oven mitts on!) and flip it over onto the cool tray.
Congratulations, you pulled off the flip! (are you still with me?) I threw the above picture in for you in case it helps illustrate the order of things (I've now removed the pan I cooked it in, and we're ready to remove the wax paper).
Carefully pull the wax paper away- you really don't want your cake to stick to the wax paper or start to come apart- this part is really important (that's why I wanted you to grease your wax paper really well).



...oh, and now you know what my other pan was busy doing (did you notice the tea towel switch?)
I was making 2 rolls when I photographed this (you only need one tea towel ;) ).
Re-roll it & voila!
----------------------------------------------------------------------------
If you liked this post, you might like my
"Cinnabon" Cinnamon Roll tutorial- click here to check it out!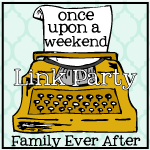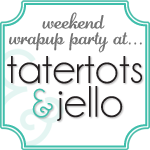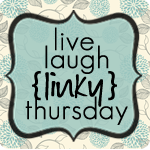 also sharing at a few link parties that are in the sidebar here-->