I saw several great re-purposed jar ideas in the
Sharing Time Link Party
this month and I thought this would be a good time of year to do a roundup because many of these would make great gift ideas!
Here are 11 creative ways to re-purpose a mason jar!
These
Milky Way Cookies Gift in a Jar
by Angie from The Country Chic Cottage look so good! I've always liked the "recipe & ingredients in a jar" gift idea because it's simple and inexpensive but it gives you the opportunity to make something with your kids.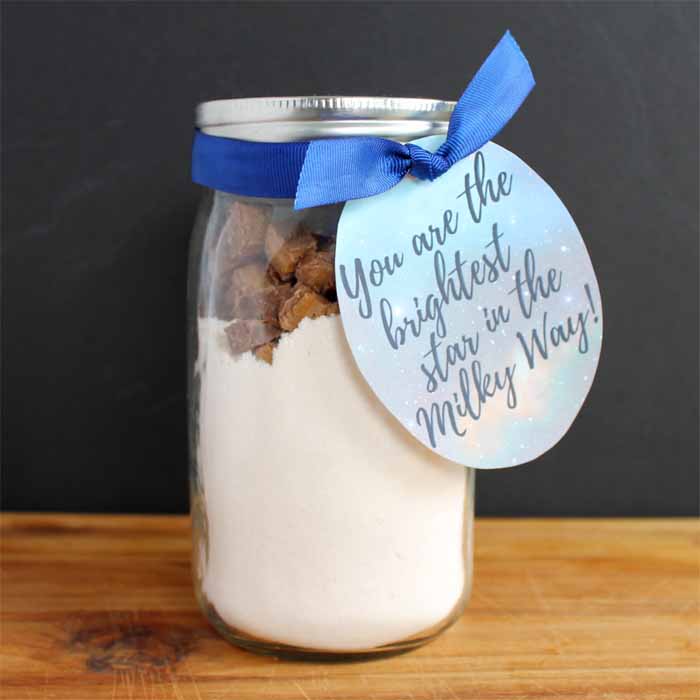 With Christmas approaching, it's a good time to share this Holiday service idea for families. It's a
Service Idea Jar
, labelled as "Our Gift to the Savior" to remind us that when we serve others, we are serving God. This post includes a free printable to make it easy to make this one.
Another take on the service jar, this "
Love Your Neighbor Jar
" is meant for saving money throughout the year, so that you can provide Christmas for another family in need next year! This post includes free printables and ideas for a family night focused on love and serving others.
How could I leave
Cupcakes-In-A-Jar
off of this list? These ones were quite easy to make- with the right sized jar and cupcakes, you just bake the cupcakes separately & layer into the jar.
These
Fall Scented Candles
by Angie from The Country Chic Cottage are so pretty! They look like they'd smell amazing too. This would be a fun project to do with kids I think!
Merissa from Little House Living stores her homemade
Ranch Dressing Mix
in a jar, to make it easy to mix. I'd love to try making dressing from scratch like this!
What a cute kids' craft idea- I would have LOVED making my own
DIY Snow Globe
as a kid! This one comes from Angie at The Country Chic Cottage.
I haven't tried overnight oats or anything like them (yet) but I would love to try this
Chia Banana Strawberry Breakfast Jar
- it involves Nutella, my friends. This one is thanks to Kerrie from Family Food and Travel.
I recently shared this "
We Love You Jar
" that we made for our friend's birthday. It involves candies and kind notes and it looks cute too!
This
Family Questions Jar
idea was shared here on my blog by Ginger from Ginger Snap Crafts.You can use the prompts to give you discussion ideas for your family at dinner time!
Olivia from This West Coast Mommy made these beautiful
Lavender Vanilla Bath Salts
and gifted them in a jar- they look so pretty!
Speaking of homemade body products, this
brown sugar body scrub
was made by Jessica at 4 The Love of Mommy. These are great DIY gift ideas!
And here's a bonus #12: How cute is this little
Santa Candle Craft
by Jennifer from Mom Vs. The Boys?!
If you've made (or received) gifts in jars before, I'd love to hear what they were!